---
NATURAL PROGRESSION
Manifesto - 2016/2017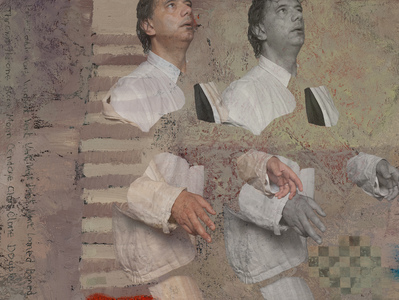 Double, Double
Oil and mixed media on board 48 X 64 ins./121.9 X 162.6 cm. (unfinished)
We have never sought to make a reproduction of the world, but rather to make something that's equally valid; and the progression of our work isn't fueled by a desire for new and different, so much as a quest for ever more clarity. For concepts that are more distilled and simple.

We're euphoric about how materials and methods can articulate our ideas, but that's the extent of our interest in them. Our enjoyment is through them, you might say, rather than in them, whereas the ideas themselves absolutely captivate us.

Our rediscovery of photography and torn paper has introduced a fresh fluidity and speed to these evolving works. Bi–millennials understand photography as something very different from painting: a casual, less intimate and less pompous medium, like the promiscuous younger sister of painting. But we like how it communicates so energetically, yet still manages to convey subtle concepts.

Some of our background patterns are made from mirrored and flipped photographs, endlessly repeated until they look like the old fashioned wallpaper that we saw in our grandparents' homes. No coincidence that in these patterns the past is dredged up and brought into bed with the present. In Paaatrick Baabyboy the wallpaper is made from a nice little portrait of Edward four days after his first birthday. In …humor and the mocking of... it was a candid photograph of a man in sidewalk traffic in Austin; and in Ixchel Over Seventh we dallied with a shot of Seventh Avenue in New York from our hotel window, matrixed into a pattern, but later we rejected it.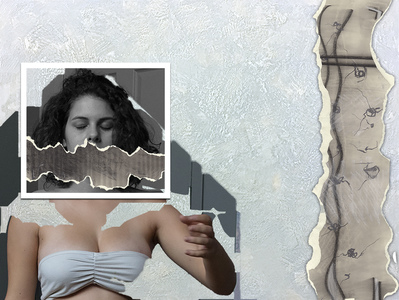 Ixchel Over Seventh
Oil and mixed media on board 36 X 48 ins./91.4 X 121.9 cm. (unfinished)
When these intentionally ordinary photographs are built into repetitive sequences, they produce a ritualistic attentional and emotional state, changing the original images into visual mantras.

Since 2012, the central figures in our works have been disintegrating, passing from whole but lying illusions into fading yet honest reminders of human beings. Somewhat Cubist in their intent rather than their structure, and inexorably shedding integrity as we move forwards.

These two ways of indicating our own selves are set at odds: the figures, and the patterns made largely of figures. The one happily deconstructs while the other transcends. They are both apparently impersonal though, having transited from our previously sensual paint into licentious photographs. I say 'apparently' because in fact we have imitated some of the photographs in meticulous paint – partly out of sheer devilment and partly in repartee with René Magritte's treacherous ghost.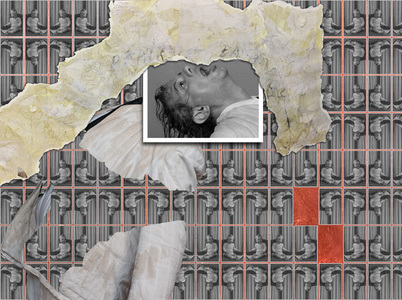 Paaatrick Baabyboy
Oil and mixed media on board 48 X 64 ins./ 121.9 X 162.6 cm. (unfinished)
Our inevitable need for intimate communication has found a new home in the strips of hand-made paper on these works, which are notated with gestures and words. We have invented what we call 'machines' in which Povey and I are variously lashed together while both marking the paper.

Where as individual artists we once struggled to outwit the rigidity of conscious intention, we are now experimenting with the unpredictability of the others' movements combined with elastic pulleys, low light and the use of non-dominant hands to entice the subconscious and conjure the shared mind – similar to the mischief of a Ouija board. We do this so as to counterbalance the impersonal photographic montages with very personal and sensorial markings. The slutty black and whites set in tension with the ego-less gestures of the subconscious.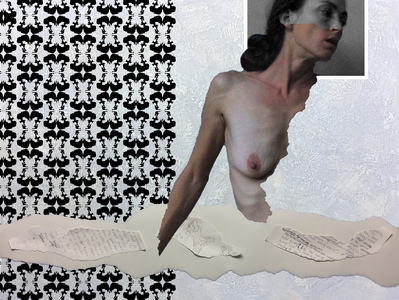 …humor and the mocking of…
Oil and mixed media on board 30 X 40 ins./76.2 X 101.6 cm. (unfinished)
These new works emerge from a mixture of play, orchestration and a species of essentially intimate performance; and at the moment we can't see a clearer, more distilled or simple way to achieve our goals.
Although we are working with a Postmodern manifesto, like Hockney in Livingstone's Modernist terms, our paintings "…are not to be substitutes for the world perceived through the senses, but are equivalents to it, just as a poem creates a parallel to experience rather than its mere description." Nicely said, David and Marco.
Tolar Schultz 2016
---
---



A DENOTATIVE KIND OF ART
Manifesto - 2016/2017

By 2004 I was working beside Tolar Schultz in a Caribbean Island studio, and I was painting in a style that had evolved over a period of thirty years, selling into private collections and even a few museums. I thought this much-appreciated style would run to the end of my life, but I had begun to have doubts. The previous work itself remained valid, but I was changing in what I needed, and was quite unintentionally morphing into an artist stranded without a workable concept.

So Schultz and I obsessively discussed potential ways forward, month after month raising our knowledge of the devices and laws of art to a dizzying new level, and then year after year, combining ideas and experimenting. We were building the visualization of an experiential and visceral art form; simultaneously though, we wondered whether we could actually create a functioning visual language.

Meanwhile our discussions had captivated Tolar, and were leading her away from her previous figurative symbolist approach. We had never made inauthentic 'art as merchandise', and so without a language that we could believe in, it seemed that we were both sentenced to a purgatory of perpetual search.

After nine fascinating but also frustrating years, in early 2013 we struck gold. We had found improbable devices that could be paired, and which made sense as a visual way of presenting complicated emotions. The first devices of many.

In the three years that followed, we worked on paintings together, gradually acquiring a certainty about what we were doing, and about it's relevance to the art world into which we were bringing this unfamiliar style: liminal human bodies in a limbo of pure abstract forms, all speaking one distinct yet inscrutable language.

Collectors and dealers were beginning to ask what our evolved style was called. It had no name, it was almost impossible to do, but when it worked, it was phenomenal. Contrary to our every intention though, and against our desire to make experiential paintings in this hideously word-bound period – we believe we have developed a denotative kind of art; paintings that point to and discuss ideas about art, but more importantly, about what an art form can be.

We're a long way from that studio in the Caribbean.

Edward Povey 2016
---
---

POVEY and SCHULTZ
Manifesto - January 2016

Whereas I have always made art for a living, Schultz has the freshness of having started relatively recently in 2004. But we share an attitude. We would far rather drive a cab than make art that is fake; some kind of art merchandise or quasi-intellectual garbage. We contend that however strong an idea is for a painting, unless it is strong visually, it cannot qualify as visual art.

­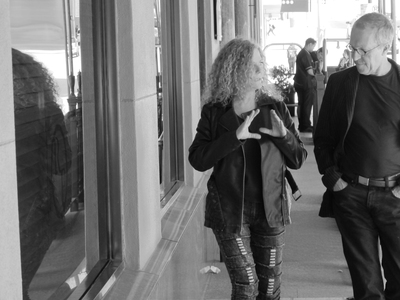 We balance and counter-balance our works with many layers until they convey complicated emotions; and we fervently avoid banality, narrative, propaganda and social cynicism like the plague, because they would rob us and our viewers of those interesting and inarticulate complexities.

Our paintings contain a lot of moving parts: theoretical, philosophical and practical; but we measure them by their simple ability to function. They are corporeal paintings. We handle liminal human bodies and discussions about real surface versus visual space. Primal abstract forms and negative shapes versus contrived illusion. A reliable language to convey those abstract ideas.

Our preferred way to avoid driving cabs is to regard ourselves as workmen. As makers of things.
­­­­­­­­­­­­­­­­­­­­___________________________________________________________________
­­­­